May came quickly I am am SO EXCITED to share this month's Island Batik Ambassador's challenge! This month is all about the Modern quilt… This has always confounded me–What is modern? What makes a quilt "modern"? Am I doing it and I don't know it or do I think I am doing it and I'm really not? I decided not to take a chance, learn a new technique and try something I have been avoiding. Avoiding because, like "modern", the term "improv" is a little intimidating as well.
You see my Quilty best friends and I have our own challenge we are working on–which started back last October 2019 as the "10 in 12 Challenge." It started out where we challenged each other to do 10 quilts in 12 months. We had 4 things that were "must dos": Quilt for State or national show, self designed, improv, and start to finish (the whole thing by self) and the other quilts were from a list or our UFOs or whatever caught our fancy. This challenge has morphed into a 12 in 18 Challenge and, currently, a 14 in 24 Challenge. I think! I think my current count of quilts I have completed is 7:
• Simon's postage stamp (scrap quilt) • Magical (kit/traditional) • Grandmother's Flower Garden (a time killer) • Puff Quilt (start to finish) • A New Slant on Christmas (herringbone/holiday quilt) • i carry your heart (Poem/word quilt) and • IKAT diamond (gift quilt)
When I discovered the improv class by Carole Lyles Shaw called MidCentury Modern Curves Workshop, I signed up for it immediately back in January 2021. I had planned to do a modern quilt earlier in the year but when I saw May's Island Batik Jewel Quest collection I knew when and where I would practice the new techniques! I have to say, through this very well planned and demonstrated video course I am confident that I would be able to do this technique again easily. Plus: Fun! I had fun!
I don't want to go into any of the specific techniques or methodology as I think they belong to Carole and her course but I would encourage anyone to take this (or any other) Carole teaches. It makes you feel confident!
Once I completed the top and back (just wait!) I sent it off to my very good friend to longarm.
I asked her to "do something linear" to it… the quilting shows up well in these photos.
With binding on I marched off to take a few pictures. I am Regionally proud in these following pictures demonstrate that. I live on the second largest island in the United States. Kodiak is only number two to Hawaii. We have the largest bears in the world on our island–due to their rich salmon and deer diet. This statue is in front of the Kodiak Wildlife Refuge Visitor's Center in Kodiak, Alaska and represents a bear you could find here. (for scale, my friend holding the quilt is 5′ 10″). Our bears are BIG.
Without the generous partners of Island Batik this quilt would be much more difficult to make. I used Aurifil thread in the piecing. I (always) used Schmetz needles. I also used Hobb's batting! Thank you for your generosity!
Please check out the other Island Batik Ambassadors to see the new fabric collections and the fabulous modern quilts made with them.
May 3:
May 4:
May 5:
May 6:
May 7:
Blog Hop Round-Up Week 1 and Giveaway
May 10:
May 11:
May 12:
May 13:
May 14:
Blog Hop Round-Up Week 2 and Giveaway
May 17:
May 18:
May 19:
Fabric Giveaway on Island Batik's Blog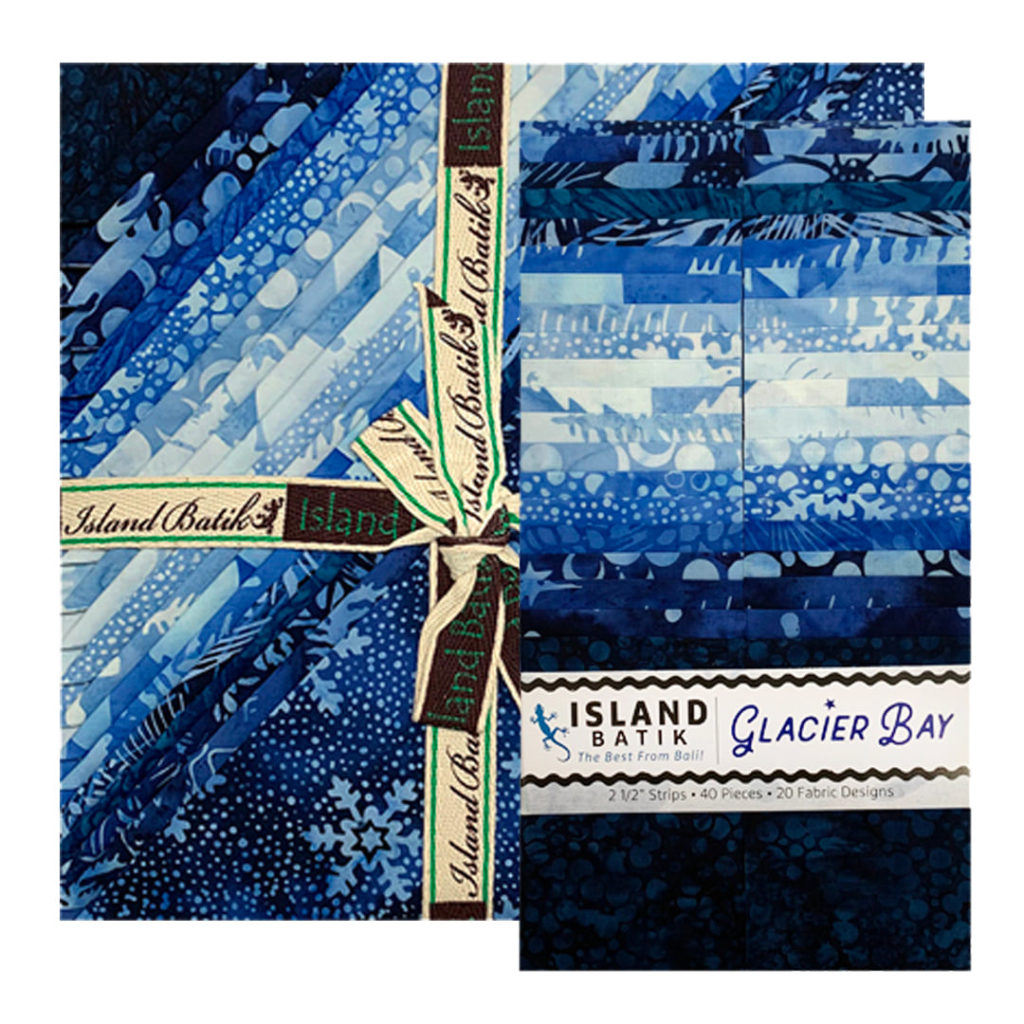 This weeks prizes include: a 2.5″ Strip Pack and 10″ Stack of Island Batik Glacier Bay collection by Kathy Engle (there will be 2 winners). Head over to this Quilt Modern Blog Hop post to get all of the details or enter below for a chance to win one of these precut sets from Island Batik. Good Luck!